Contact Us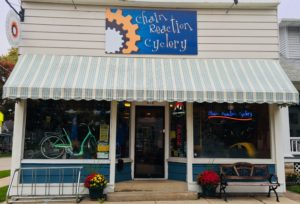 Thanks for your interest in Chain Reaction Cyclery! We're looking forward to helping you find the right bike, or service your existing bike, and show you all the new and fun cycling accessories to make your ride more enjoyable. We invite you to stop by so we can get to know you and meet all your cycling needs. See you soon!
Chain Reaction Cyclery
818 N Superior St
Appleton, WI 54911
(920)733-1141
Owner
Niki Worden
nikibikeshop@gmail.com
HOURS
Monday & Tuesday – 10am – 7pm
Wednesday, Thursday, & Friday- 10am – 5:30pm
Saturday – 10am – 2pm
Sunday – Closed to go riding
Please note our hours occasionally change due to our kids, race schedule, or lets face it the weather is beautiful so we too want to go out on our bikes, or the weather is awful and we'd like to get home it's Wisconsin….it happens. We apologize for any inconvenience this may cause if we are closed during normal hours and appreciate your understanding when it does happen. We do our best to note these changes on this website, Facebook, Instagram, a fancy note on the door, along with a message on our machine. Cheers and happy gears!-Niki
Fill out the form below to send us your inquiry.