About Us
Niki:
As long as she can remember, Niki has always wanted to have her own bike shop. The last few summers she's enjoyed racing enduro with Chain Reaction's Enduro team in the Lake Superior Gravity Series. She's competed since 1993 and raced for national teams like Gary Fisher Racing (BMX). She won the Gold Cup (in Sedalia, MO for BMX), raced at Grand Nationals and Race of Champions (BMX), and won a state cycle cross title, and podium-ed at Noque Fatbike World Championships in Marquette, MI. BMX progressed into racing road and then into cyclecross and onto mountain & fat biking. In 1996 she started working in the bike industry. Even with her store and daughters, she still finds time to ride.
In winter she loves fat biking. She also enjoys skiing and snowshoeing.
In warmer seasons, she enjoys going mountain biking, and hitting up the many scenic roads on her road bike, and heading up north to ride in Marquette MI.
When she isn't on the bike or in the store, she loves camping and getting out on the boat.
Scot:
Scot is an avid mountain biker and enjoys racing enduro, and started racing back in 1996. He also enjoys road biking, when he can't get out on the trail. Some of his favorite places to ride are Marquette Michigan, Duluth Minnesota, Little Switzerland and Ringle…. really any place that will allow his tires to leave the ground. Scot has been working on bikes since the mid 90's, even working in another local shop for several years.
Reece & Jade (our girls):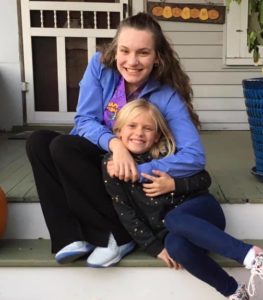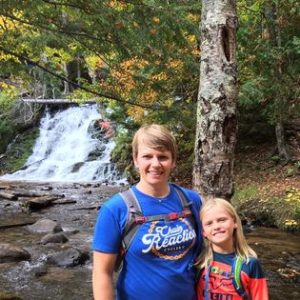 Reece: Niki's little girl, knows her way around the bike shop, and is more than happy to show you (in her opinion) the best Stinger bar. 🙂 In her free time Reece enjoys riding on her sweet Rocky Vertex Jr, drawing, and crafting.
Jade: Scot's girl, Jade, enjoys hiking around Wisconsin and Upper Michigan! She is currently continuing her education in the field of nursing.
Pete:
Pete has ridden and repaired bikes for most of his life and his bike is his preferred method of transportation around town. In college, he worked at a bike and ski shop where he learned to assemble, repair, and appreciate bikes. He has toured throughout much of the United States on his bike, first with his wife and later with his kids. He repaired bikes out of his home for friends and family through most of his adult life. Pete enjoys getting out on his Rocky Thunderbolt hitting up the trails at Reforestation in Suamico, or heading up north to ride the WinMan trails. Pete joined us in the fall of 2012!
Izzy:
Our friendly, little curly-tailed shop Pug loves going for bike rides with us in her Burley Tail Wagon trailer. She loves a scratch on the head or a treat when people come in, and is always up for a good game of fetch with her stuffed duck.
Now that you know a little about us, we'd love to know a little about you so stop in soon!
We're looking forward to meeting you.