Bikes
We're proud to carry bikes from the following companies: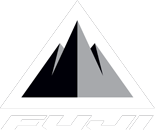 Fuji
Fuji has so much going for it. Since 1899 they've forged a long, rich heritage of quality bikes for nearly every need. Their aluminum and carbon bikes are an excellent value, and Chain Reaction is one of few local bike dealers who carry their comprehensive line. To try one for yourself, come in soon.
Rocky Mountain
Rocky Mountain Bicycles has been designing, developing, and perfecting mountain bikes in and around the north shore of Vancouver, British

Columbia since 1981. This diverse playground has offered us the ideal proving grounds for all types of riding. Whether you're looking for the ultimate race machine, an all-mountain bike, or a trusty all-rounder for weekend thrills, we build exceptional bicycles to fit your riding style. Amazing mountain bikes, and our favorite fat bikes! Please come in soon to try one of these amazing rigs out for yourself.
Waterford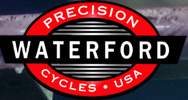 This Wisconsin-built bike company is owned by one of the original Schwinn brothers. They specialize in fully custom steel bicycles, built to suit the ride characteristics you need. Whether you'll be racing, touring, gravel or enjoying the occasional group ride, they can build a bike to suit your individual needs. To personally inspect their frames, you can visit our shop, or schedule a factory tour.

Moots
Located in Steamboat Springs, Colorado, Moots handcrafts fully custom titanium road and mountain bikes. We'd love you to stop by for more information on one of these truly unique and beautiful bicycles.
Surly

Surly originates out of Minneapolis, MN, and is a great choice for that specialty ride you've been looking for. They have a bit of everything including road bikes, touring, single speeds, and (our personal favorite) snow bikes. They offer stock models, or we would love to custom build something for you. Just stop by and ask us for more details.
Gunnar

As a subsidiary company to Waterford, Gunnar specializes in high end semi-custom steel bikes at a budget-minded price. No matter where your riding adventures may take you, Gunnar will have something for you. To try one for yourself, come in soon.
Breezer:

Breezer Bikes is the first and oldest mountain bike company, started in 1977 when Joe Breeze hand-built the first ten modern mountain bikes. Each and every Breezer today continues to be designed 100% by Joe Breeze. Applying almost 40 years of engineering and design expertise, Joe makes cutting-edge mountain bikes in carbon fiber, aluminum, and steel.
Biria:
Biria has its roots as a truly European brand. Having originated in Germany, Biria Bicycles became a popular brand in Europe with a flair for being both utilitarian and stylish. Biria USA was born in 2002 with the desire to bring bicycles to North America that captured the same spirit embodied in the most popular models being ridden all across Europe.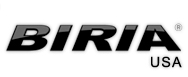 We care about helping people enjoy cycling, and want you to be comfortable on the new bicycle you just purchased. That's why all of our bikes include full fittings, which includes (but is not limited to):
Saddle height
Saddle fore/aft adjustment
Handlebar reach
Brake-lever reach/hood height
Stem length/height
Check handlebar width
Cleat adjustment (if needed)